Potwin Public Library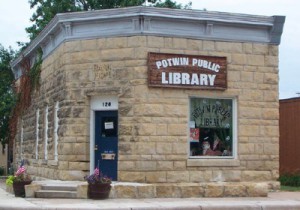 Wireless Internet The library offers computer usage as well as the ability to connect with your own laptop
Rotating Books Through South Central Kansas Library System we offer a variety of books on a rotating basis
Large Print Rotating Books
Summer Reading – June
Story Hour – Winter – Pre-K
Children's Library – our children's room contains a large number of new children's books,
Sale Books
Collections – our collection contains a large variety of books from popular authors
Young Adult Books
Kansas State Library Card – Patrons can obtain a Kansas State Library Card free from the library, giving access to a large number of services including downloadable audio books
Audio Books
Movies – Our extensive collection is in DVD format
Services
Potwin Public Library
126 N Randall
Potwin Kansas 67123
(620)752-3421
Hours:
Monday/Wednesday 10am-3pm
Tuesday/Thursday 1pm-6pm
Librarian
Monica Mitchell
Library Board
Dora Carter – Chair
Sheri Estes – Treasurer
Velene Brown – Vice Chair
Marilyn Longdon – Member
LaVonne Baker – Member
Page Bennett – Member
David Denny – Member
Check Out
Books & Audio Books
2 week checkout, renewal for 2 weeks.
Children's books limited to 10 per child
No limit on adult books
DVDs
7 day checkout, no renewals
Children under 18 years of age may not borrow Rated R movies
History
The Potwin Public Library was started in the mid 1930's by a group of ladies from the Senior Study Club. Each lady brought their extra books to Mrs.Collingsworth' s home. They also held food sales to buy books.
The library was first located in the Community House in the southeast upstairs room. The first librarian was Anna McNary, followed by Marie Swift, Edna Ferking, and Betty Whiteside with assistant June Slater.
In 1973, Wheatstate Telephone Com. gave to the city the old stone bank building, which was built in 1904. The building has previously been the telephone company's offices. After extensive remodeling the city turned the building over to the library. The books were moved into the new library with the help of the Potwin Girl Scouts.
In 1982, Mrs. Florence Kerr left the library $5000 in her will to help improve the library. New shelves, typewriter, air-conditioner, film projector and many more items needed were purchased with this money. In 2005 the library was again remodeled, with new paint and carpeting. In 2008 oak bookshelves were built and installed by the ElDorado Honor Camp.
One unique feature of our library is the location of the restroom, which is in the old bank safe.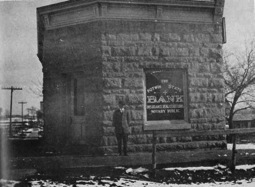 Orlan Lintner in front of the bank, probably around 1916.